Portable Folding Ramp
SKU:

LR2

UPC:

Availability:

Free Ground Shipping
Description
LiteRamp portable features an easy to use lightweight design that makes this ramp desirable for today's person on the go. The ramp folds into a convenient size for transporting and storing. The convenient handle makes it easy to carry, manipulate and maneuver.
FEATURES:
Easy to use, no installation, no loose parts. Can be carried just like a suitcase

Versatility: can be used with electrical or manual wheelchairs and scooters

Equally at home being used on thresholds, decks, side or back doors of most vans back doors of most SUV's

Multiple carrying handles eliminates finger pinches

700 lbs. load capacity

Folds in the middle like a suitcase

Carrying Handle

Requires no installation

Self-Supporting - won't slip off stairs

Aircraft aluminum construction

Non-Skid surface

Weather resistent - leave outdoors year round

29-1/2" Width

Anchor holes for semi-permanent mounting

Why choose LiteRamp?
LiteRamp is the most affordable portable wheelchair ramp:
Portable wheelchair ramps and scooter ramps are not covered by Medicare or Medicaid. High out-of pocket costs have been a challenge for both dealers and consumers. To make our products high quality at low cost, we do two things: we stay focused on the most useful products and produce them in large quantities; we use highly automated, modern manufacturing processes. Comparing to equivalent products, LiteRamp ™ wheelchair ramps and scooter ramps could be as much as 30% cheaper.
LiteRamp is safe and easy to use:
When it comes down to ease of use, there is no comparison between the one-piece multi-fold ramps and the two-piece ramps. LiteRamp ™ is the 1st two-piece portable wheelchair ramp on the market. Today, the two-piece style has been copied by almost all wheelchair ramp manufacturers. However, our original design is still the easiest to use - the mechanism to lock and unlock the two pieces requires a simple sliding action involving NO tooling and NO loose parts.

Finger pinch is a rare but real risk when someone folds or unfolds a ramp. We at LiteRamp ™ have an unique method to solve the problem - every two-piece LiteRamp ™ is equipped with 4 handles so as long as the user keeps his/her hands on the handles, finger pinch will not occur.
LiteRamp ™ is versatile:
LiteRamp ™ can be used by electrical or manual wheelchairs and scooters on thresholds, curbs, stairs, trailers, decks, side doors and back doors of most vans, SUV's, and pickup trucks. With 700-pound load capacity, our ramps are also used for pets, moving companies, janitors, lawn mowers, steam generators, copy machines, DJ equipment, BBQ stoves, concrete floor grinders, medical equipment - just about anything with wheels or paws.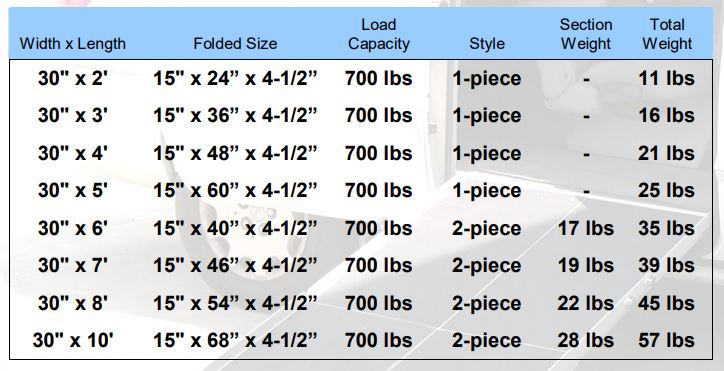 Click Here to view the Return Policy for this item.
View All
Close
Warranty Information
1 year limited warranty from the manufacturer on ramp 90 day limited warranty on non-skid surface.
View All
Close