Description
Our new series of shower commode chairs are loaded with standard features at a great price.
Features
Removable snap on SOFT SEAT

Padded armrests and backrest

Height adjustable

Lightweight aluminum NO RUST tubular frame

Swing Away Footrests are adjustable height and removable

Removable insert cushion of showering or toileting

5" Swivel all locking casters

Removable slide on pail

Flip back arms

Seat belt (side release)

Adjustable removable Anti-Tippers
Specifications:
Overall Width: 22"

Overall Depth: 37"- 38.5" with anti-tippers extended

Seat Width: 18"

Seat Depth: 17"

Seat Height: Adjustable to 19.5", 20.5" or 21.5"

Adjustable Footrest Length: 14" to 20"

Footrest Hanger Angle: 60 degrees

Back Height: 18"

Arm Height: 11" From Seat

Arm Length: 13"

Arm Pad Length: 9"

Rear Clearance Without Pail: 17" - 19" or 20" With 1" Height Extension

Rear Internal Width: 15"

Weight Capacity: 250 lbs.

Approximate size of commode opening: 14" long by 7.5" wide (at widest points)

Some assembly required
Click Here to view the Return Policy for this item.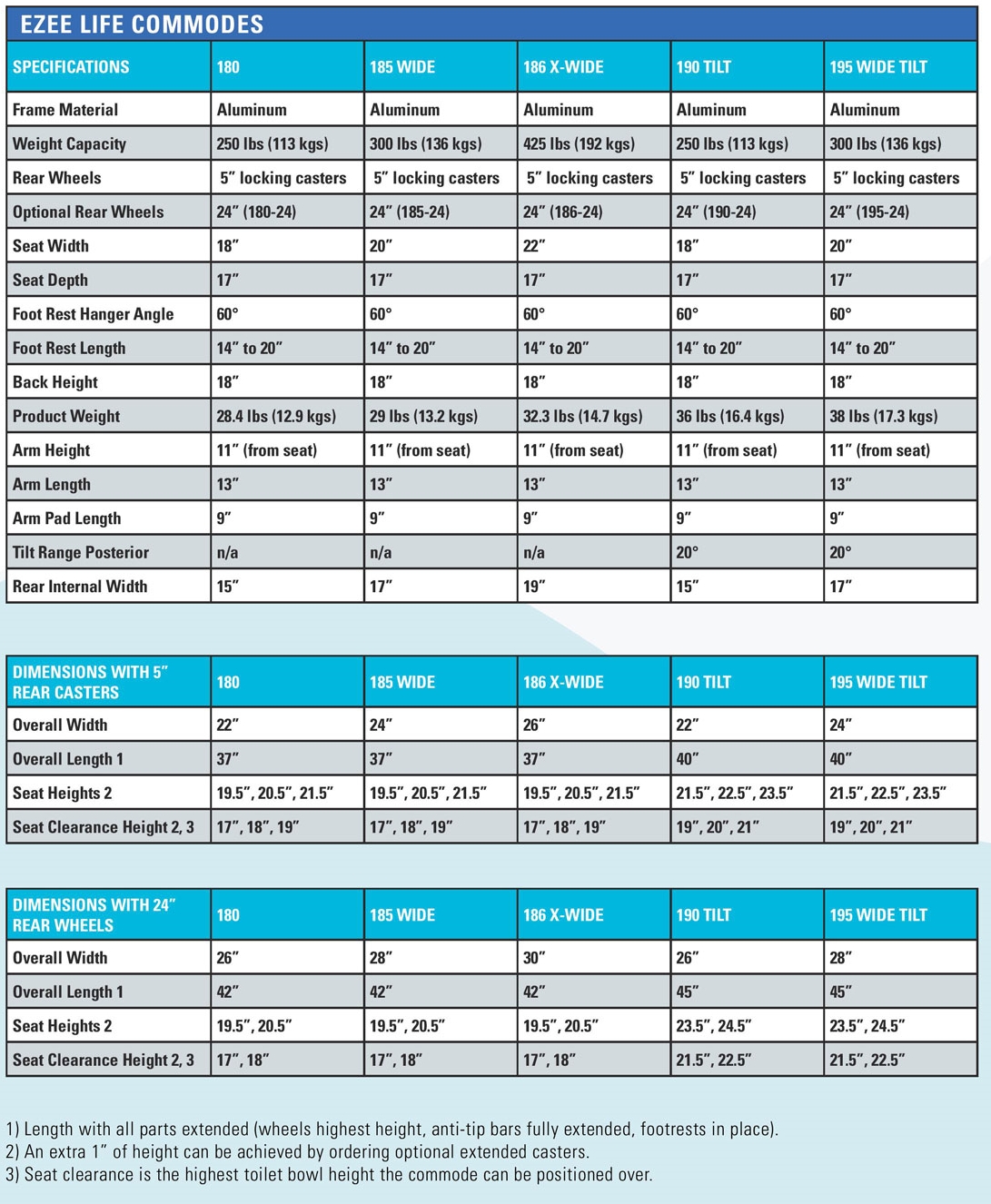 View All
Close
Warranty Information
One year warranty against manufacturing defects, faulty materials and workmanship only. Any alterations, misuse, abuse, or accidental damage voids the warranty. Manufacturer and retailer reserve the right to replace or repair any part that is defective.
View All
Close
11 Reviews
The chair is stable and the wheels don't appear that they are going to fall off. The arms are a good high. Also, the material seems sturdy and won't rust. I like the chair and recommend it.

I loved the Shower chair, it exceeded all my expectations. I was impressed with the details of the construction. I would recommend this product.

Before purchasing, we did our homework and researched many shower chairs. We found this to be the best. It's light weight, easy to use, the tires are big enough to roll well plus they lock. I would have given five stars if the seat could be removed from the bottom.

The Ezee Shower Commode is excellent for my mom! She is petite built about 130 lbs and we use a Hoyer Lift to lower her into it since she is not able to move on her own. The shower chair wheels are sturdy with safety locking device that's easy to apply. Easy to wheel over a small rubber ledge into the shower. The material is easy to wash and doesn't stain. It's simple and not too elaborate like other shower chair. It's sturdy and safe and I know it'll last a very long time. Bought it at around $398. An excellent buy! Highly recommend

Well made, back just too low for me.

This chair was bought as a gift, fortunately before trying to put it together I realized the back height from the top of of the seat to the top of the upholstered back was just not tall enough. What a shame because this chair is made of aluminum and is solid there are some Adjutant can be made but the back is not one of them for the price and if it measures for your specifications it's a really good deal. They also make one with the 24" wheels for self propelling.

I placed my order with a very informative man. My order arrived and I put it together without a single tool. The easiest item I have ever put together. The chair is very nice looking and is comfortable.

Customer service was very helpful. Delivery time was quick. The chair is very useful. Great product. Pricing for the chair was the cheapest I could find.

I bought EZee Regular Size Shower Commode for my mom. I went through many websites looking and finally came to CareProdx.com and saw the most ideal shower chair at a reasonable price. I was impressed that all the parts are sturdy and not too heavy. It was relatively easy to put together when it arrived. The wheels are large enough to move freely about and the locking devices are very sturdy also. It's easy to maintain and really no fuss. I cannot find a better shower chair than this one.

so far very satisfied with this chair. It seems to be of good quality. It would be good if there were options to purchase chair with no leg rests to save dollars. It was very easy to assemble. I like the chair

Excellent Shower/Commode Chair For Disabled

Mary P. 5 stars Verified Buyer Excellent Shower/Commode Chair For Disabled This chair was exactly as pictured. It was easy to put together & is sturdy. It arrived just a few days after we ordered it. My husband is totally dependent after having an aneurysm burst 3 yrs. ago. He cannot sit by himself for very long. This chair is wonderful. I just put him on it with his lift & roll him into the bathroom & roll him onto the toilet. When he is finished, I just roll him into the shower. It's a blessing for him to get a daily shower.
View All
Close