Description
Our new Best Tilt Series of shower commode chairs are LOADED WITH STANDARD FEATURES at a great price.
Features
Removable snap on SOFT SEAT

Padded armrests and backrest

Height adjustable

Lightweight aluminum NO RUST tubular frame

Swing Away Footrests are adjustable height and removable

Removable insert cushion of showering or toileting

5" Swivel all locking casters

Removable slide on pail

Flip back arms

Seat belt (side release)

Adjustable removable Anti-Tippers

Adjustable headrest
Specifications
Overall Width: 22"

Overall Depth: 40" or 44" with anti-tippers extended

Seat Width: 18"

Seat Depth: 17"

Seat Height: Adjustable to 21.5", 22.5" or 23.5"

Adjustable Footrest Length: 14" to 20"

Footrest Hanger Angle: 60 degrees

Tilt Range Posterior 0 - 20 degrees

Back Height: 18"

Arm Height: 11" From Seat

Arm Length: 13"

Arm Pad Length: 9"

Rear Clearance Without Pail: 17" - 20"

Weight Capacity: 300 lbs.

Approximate size of commode opening 14" X 7.5" (at widest points)

Some assemble required

Box size 25 X 21 X 24 - weighs 40 lbs.

Toilet Clearance: Up to 14" wide bowl. Up to 20" tall bowl.
Click Here to view the Return Policy for this item.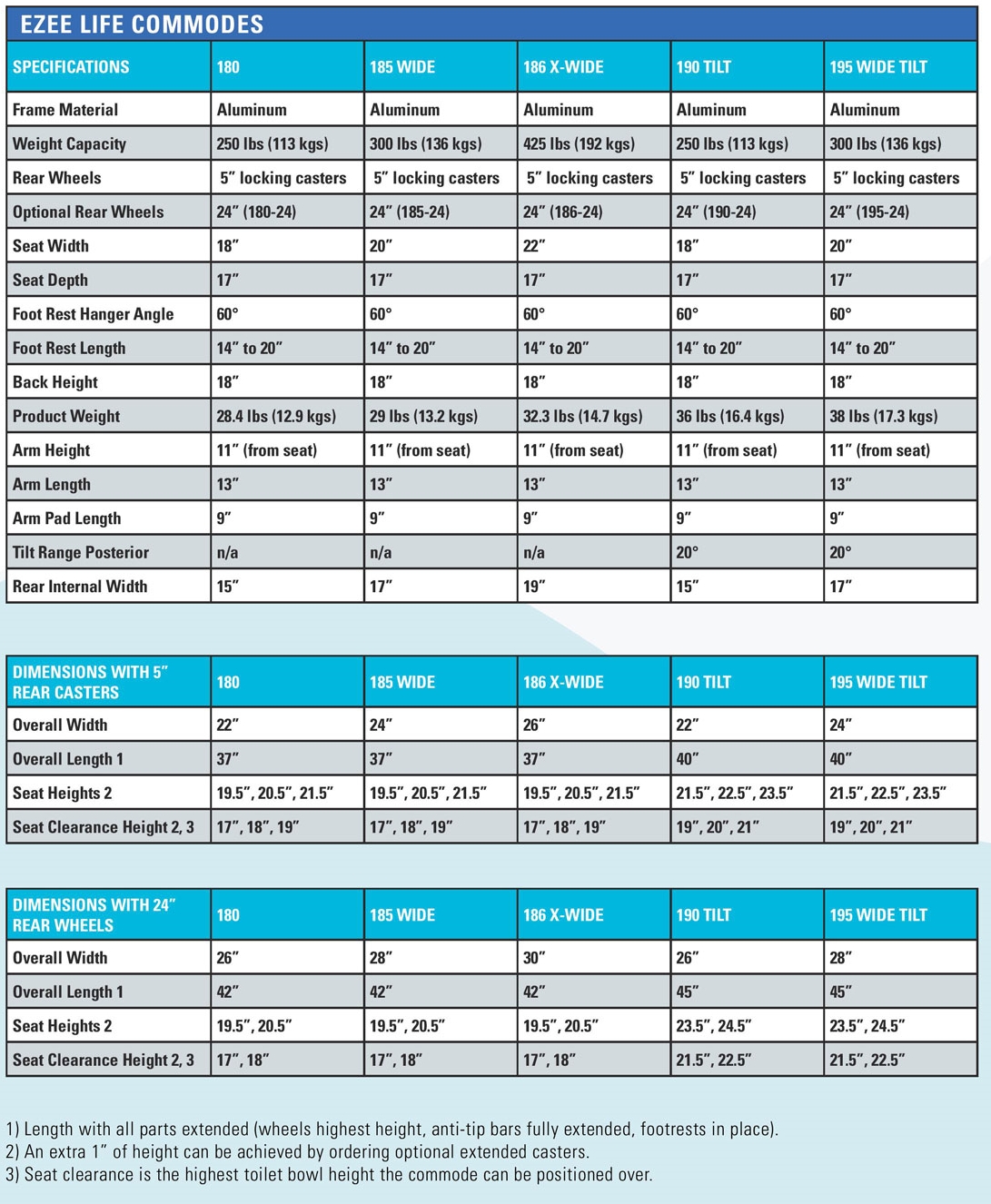 View All
Close
Warranty Information
One year warranty against manufacturing defects, faulty materials and workmanship only. Any alterations, misuse, abuse, or accidental damage voids the warranty. Manufacturer and retailer reserve the right to replace or repair any part that is defective.
View All
Close
6 Reviews
Love this! Brother-in-law has MS and this chair is sturdy, safe and works fantastic for his needs. Highly recommend

This chair exceeded my expectations in every way. My wife has ALS and all transfers are with the Hoyer Lift. The shower chair I was using before did not tilt back which made it difficult to position her all the way back in the chair. The upright shower chair was also very uncomfortable for her to use in the shower and the lack of height adjustments rendered it useless over a commode. The many adjustment capabilities allowed me to tailor the chair to my wife's needs. One concern I had was whether it would fit in our roll in shower enclosure which was 41 1/2 inches wide by 31 inches deep. It fits well in that enclosure with sufficient tilt required for bathing. The last commendable issue is product support. It The chair arrived almost completely put together but I had a few questions. The medical equipment provider from whom I purchased the chair told me to call the product support number in the instructions and ask for Iris. I did and Iris was extremely knowledgeable and pleasant. And that is not something you can say about most product support!

Excellent price!

Prompt, courteous service and a great product

Great experience with purchasing, delivery and product quality.

When you shop and purchase online one only has a picture to go by. I was pleased with a well built commode chair for my wife. we have only had the chair for a few days so it is hard to rate it just now. The box arrived on time and in good shape.

I got this chair for my mother that had a stroke .This chair is great also like a daily user . The option to recline the chair is a big help you don't have to worry that your love one will slip down the chair. The seat belt and calf belt takes care of that along with the head support insures head stability. Let's not forget the all wheel brakes.To me it was a tremendous help for my mothers safety and well being.
View All
Close